Since I have been trying to breath some life back into my poor, previously neglected blog, I thought that linking up with Carissa would be a great way to start =) I've been a follower of her awesomeness for a while now and am pumped to be diving in!! Also, my brain tends to fire in random thoughts and sentence fragments sooooooo writing random is just. up. my. alley. Here we go party people....
1) I've always wanted to be stopped by a street style blogger for being fashion awesome. Like I mentioned the other day, Nashville is a hub of people who look like they just left the pages of Vogue so I think that's where this sudden urge is coming from. There are two that I follow regularly...
The Sartorialist
and
Under the Guise
. Under the Guise is acutally here in Nashville so she is probably my best bet for being discovered as a fashion genius =)
2) I can't stop myself from buying craft supplies. I seriously have an OBSESSION that may require intervention. Sometimes I buy them with plans already in place but, more often than not, they are purchased on super sale with ideas that I "might have a plan" eventually. I would love to have a craft room one day in the near-ish future where I can organize and display my crafty goodies and maybe tap further into any Marth Stewart genes I have =) If the craft goodies are vintage, I may let out a squeal an octave or two even higher than normal.
3) I am currently obsessed with the wisdom of Joyce Meyer. It has spoken such truth to my heart and such clairty to my mind in recent months. The quote above is something I have to remind myself constantly... That whole "taking thoughts captive thing" can be tricky. Right now I'm trucking my way through this fountain of faith based truth:
Your turn - Head over and link up to the fun!!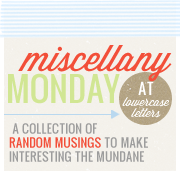 Follow my blog with Bloglovin